As part of National Apprentice Week we are talking to a few of our apprentices, past and present, about their experiences with our apprenticeship program. In our final instalment this week, we catch up with Thomas Minor, who is now a Business Development Manager for our Mobile Water Services division after originally joining VWT UK in 2008 as an apprentice. Here, he tells us more about what he has achieved and why he chose an apprenticeship.

What was your apprenticeship and why did you choose to do it?
It was an Advanced Level Apprenticeship in Science, Engineering and Manufacturing Technologies. This was a four year apprenticeship, which I completed between 2008 and 2012.
When I left school, I was primarily looking at the plumbing and electrical trade apprenticeships. The idea of combining practical experience with learning appealed to me. I did start a full time plumbing course at college but quickly decided that this wasn't the right fit and resumed my search for an apprenticeship. I began looking at a wider variety of opportunities, and this included an engineering focused one with Veolia Water Technologies.
How much did you know about apprenticeships at the time?
I had been introduced to the idea at school, but the focus had been on areas such as plumbing, electrics and bricklaying. I didn't know much about the opportunities that existed within engineering.
As I learnt more about the role and the business there were certain aspects that really came as a surprise to me. Walking into the VWT offices for the first time, it struck me how professional the environment was. Initially, it was quite daunting as a 16 year old stepping into a very corporate world. At that point it is difficult to envision how you will fit in, but I needn't have worried. It was such a good fit for me that I am still here 13 years later.
What qualifications did you achieve?
Initially I completed a City & Guilds Level 2 NVQ diploma in Performing Engineering Operations and a City & Guilds Level 3 NVQ in Engineering Maintenance. These were the qualifications that went alongside the apprenticeship. I then also elected to complete a more theory based BTEC Level 3 in Manufacturing Engineering to complement the practical focused NVQs. From there I moved on to a foundation degree in Mechanical Technology, and then finally a degree in Mechanical Engineering after I had completed my apprenticeship.
What sort of work were you doing?
The first role I had was as an apprentice operator on the Service Deionisation (SDI) regeneration equipment. I could have continued and become a fully qualified plant operator through my apprenticeship, but I decided I wanted to follow the engineering career path. I was put in charge of managing the maintenance schedule for the plant. I carried out all the maintenance checks and if I found something that needed addressing, one of the engineers would help me to fix the issue.
What do you think have been the benefits of an apprenticeship?
I think entering a working environment straight from school teaches you a lot very quickly and gives you valuable experiences and skills that I don't think are always possible with a purely academic route.
With an apprenticeship you also get to apply what you are learning as you go along and directly see the relevance of the theory. This was especially true for me at degree level when much of my work on the course was based on real life examples from my job.
All of this meant that by the time I had finished my degree I was in a position to move into a management role. I think this would have taken me about three to five years longer if I had completed my education and then moved into the industry.
What has been your career path since completing your apprenticeship?
At the end of my apprenticeship, I was a Commissioning Engineer for the Mobile Water Services division of VWT, working on the UK and Europe-wide fleet. This meant I got the opportunity to travel as part of my job. Following completion of my degree I became the Operations Manager for Mobile Water Services in the Netherlands. I was in this role for a year and was responsible for the management of a team of commissioning engineers.
I then returned to the UK and became an Operations and Proposal Manager, working with the commercial team on the technical aspects of customer proposals and I delivered and managed all UK wide projects. I was in this role for 4 years before moving into my current position as a Business Development Manager. All of these roles have complemented each other very well and each has given me different experiences and perspectives on the business.
What advice would you give to someone considering an apprenticeship?
For anyone trying to decide between full time study and an apprenticeship, I would always recommend the latter as you get the best of both worlds. If your qualifications take five or six years to complete, then you will also have five or six years of work experience.
To find out more about our apprenticeships click here.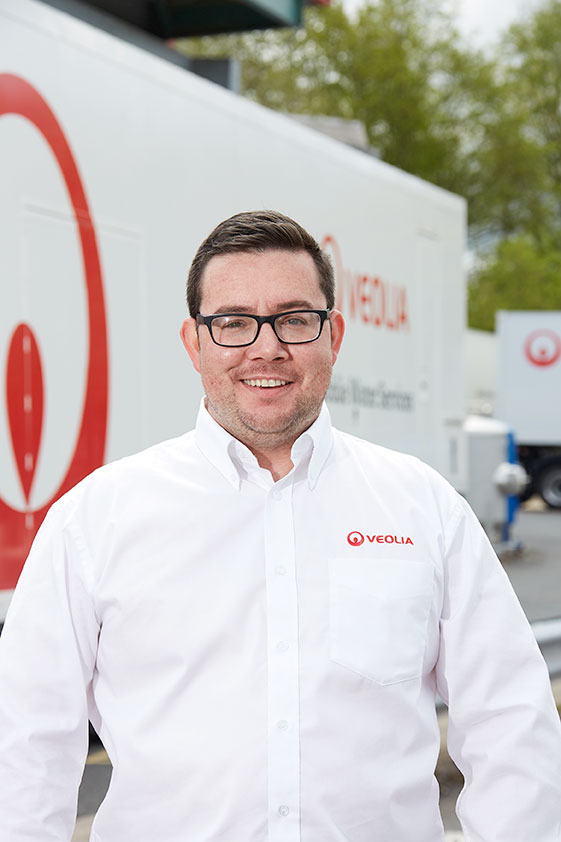 About the Author
Thomas has 13 years experience within the water treatment industry, working in the UK and the Netherlands. He has a broad level of operational experience working as an SDI Plant Operator during his Engineering Apprenticeship, Commissioning Engineer and Operations Manager. Using his years of experience Thomas is responsible for business development in the South of England and supports customers with their mobile water treatment requirements.