For the power generation sector, improvements in productivity, cost and operational continuity are essential in order to meet the growing challenges faced by the industry. However, with the proper implementation of an effective and reliable demineralised water solution – positive steps can be taken.

A reliable source of high quality purified water is essential for boiler feed and gas turbine injection applications. Water that does not meet the highest standards can negatively affect the performance and longevity of the system. System reliability is also important for industrial sector businesses that depend on the quality of their process water.
Selecting the correct high performance water treatment solution can help meet these challenges. This is particularly important where businesses are utilising water sources other than the mains supply - to minimise fresh water use and reduce operating costs.
Our TERION™ demineralised water solution has been designed to meet the strict quality standards and water volumes required by industrial and power sector businesses. TERION™ combines Reverse Osmosis (RO) and Continuous Electrodeionisation (CEDI) technologies in a single unit. It will remove over 99.9% of dissolved inorganics and over 99% of large dissolved organics to meet the most stringent water quality specifications. The range includes units that can produce between 5 m3/hrh and 52 m3/hr of treated water.
For applications with reduced water volume requirements, we have our TERION™ S, which can produce from 110 up to 4,000 ltr/hr.
Reducing capital and operational costs is also an important consideration. The configuration of the RO and CEDI units into a single pre-assembled frame and testing the unit before it is dispatched reduces installation and commissioning time.
The use of Variable Frequency Drive (VFD) pumps and high efficiency motors means energy usage is reduced by up to 50%. Also, the continual electrical regeneration of the resin beds within the CEDI means the additional cost and risk associated with the acid or caustic chemicals required for traditional ion exchange systems, is eliminated.
The TERION™ S and TERION™ can both be integrated with remote monitoring and optimisation platforms such as our Hubgrade Digital Services. This can help improve the efficiency of the water treatment system, reducing costs further, streamline its management with automated alerts and notifications and also provide real time monitoring of all your building's systems.
Most importantly, our engineering and technical support teams are on hand to provide help and guidance at each step of the process from initial specification through to ongoing system support and maintenance.
Click here to find out more about our TERION™ range.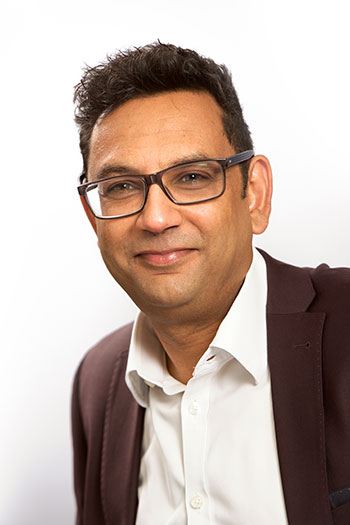 About the Author
Kalpesh Shah is the Industrial Sales Manager for Veolia Water Technologies UK. He started out working within internal sales in the early 90's before moving into international sales. In 2000, his focus led him into project management where he worked on a variety of complex and demanding projects with clients ranging from the NHS, Industrial and Pharmaceutical, for over a decade. He then moved into pharmaceutical business development which he did successfully until his promotion to Industrial Sales Manager. Kalpesh has 26 years of extensive experience with all types of industrial water treatment systems and processes. He is able to support his clients with the design and implementation of efficient water treatment systems using an array of technologies.