The industrial sector is progressively looking to streamline processes and source energy efficient solutions in order to reduce costs; and with the implementation of premium advanced reverse osmosis (RO) systems, substantial savings can be made with regards to the production of highly purified water.

For many manufacturers in the industrial sector, a reliable and consistent supply of treated water is key in order to operate – and if a facility is seeking an energy efficient and easy to install RO system with digital monitoring capabilities, the new SIRION range models are ideal.

Supplied by Veolia Water Technologies (VWT UK), the SIRION PRO and SIRION Advanced reverse osmosis (RO) solutions are energy efficient treated water systems with enhanced digital features, suitable for a wide variety of process water applications.


Designed to complement the existing standard SIRION range, with enhanced digital features, the SIRION PRO and Advanced allow for increased monitoring of the water purification process. One such addition is the seven-inch user-friendly HMI touch screen display. Fully configurable and easy to operate, it allows for the simple operation and monitoring of the system's pressure, temperature, conductivity and flow rate values.

Both models also seamlessly integrate with VWT UK's AQUAVISTA suite of digital solutions enabling real-time performance optimisation via the cloud-based platform.

Operational savings can be made using these solutions due to the use of low energy VRO membranes which mean a lower operating pressure is needed for the new SIRION models to operate. Furthermore, the systems feature a concentrate throttling valve so that flow can be adjusted to suit the actual process water demand required and is also available with an optional energy saving Variable Frequency Drive (VFD).

In addition, the SIRION Advanced includes options for a conductivity and temperature water feed sensor, connections for acid or caustic dosing stations, connections for an antiscalant dosing station plus additional universal inputs and outputs.

Both the SIRION PRO and Advanced solutions have attractive, compact and user-friendly designs meaning greater flexibility when installing in more challenging plant room spaces, without compromising on maintenance access.

With 11 fully standardised models each, the SIRION PRO and Advanced offer solutions for each required permeate flow, from 100 to 5000 l/h. The skid-mounted systems also facilitate short lead times and, as plug-and-play devices, installation and start up is both quick and easy.

In addition to systems like the SIRION range, full technology and services provider VWT UK also endeavours to provide customers with complete after-sales support.


For more information about VWT UK's SIRION range, click below.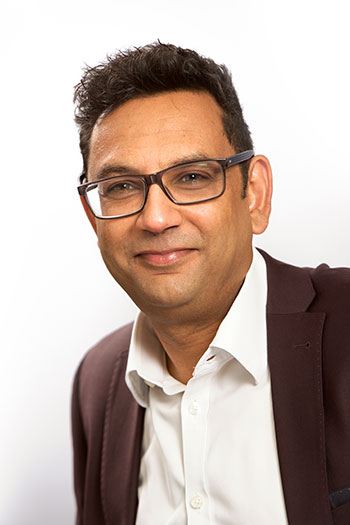 About the Author
Kalpesh Shah is the Industrial Sales Manager for Veolia Water Technologies UK. He started out working within internal sales in the early 90's before moving into international sales. In 2000, his focus led him into project management where he worked on a variety of complex and demanding projects with clients ranging from the NHS, Industrial and Pharmaceutical, for over a decade. He then moved into pharmaceutical business development which he did successfully until his promotion to Industrial Sales Manager. Kalpesh has 26 years of extensive experience with all types of industrial water treatment systems and processes. He is able to support his clients with the design and implementation of efficient water treatment systems using an array of technologies.