With hospital facilities and resources under increasing pressure, flexible treatment options are essential, especially for patients that require regular treatment, such as those on dialysis. Our HemoRO 4 ONE reverse osmosis water system offers an easy to use and mobile option for the supply of pure water to dialysis machines in ICUs and or patients' homes.

While it is an essential and lifesaving treatment, the process of haemodialysis can be confining and inconvenient for patients. Therefore, providing a degree of flexibility around this treatment allows doctors and patients to choose the option that is best for them.
One of the challenges of dialysis is the need for significant volumes of reliable pure water to be supplied to the dialysis machines for each treatment session. The water used must meet the highest standards to protect the health of patients.
There are a range of options available for the production of ultra-pure water that meets the required standard of less than 0.1 CFU/mL of bacteria and 0.03EU/mL of endotoxins. At Veolia Water Technologies UK we offer an array of different solutions including our Nephro TP central reverse osmosis water system that can produce up to 6,000 l/hr of purified water for a range of different applications.
There is an increased appeal for dialysis patients to have their treatment at home, especially in light of the risk that COVID-19 still poses to those undergoing hospital treatment. Reducing the number of visits to hospital minimises the risk to patients and takes pressure off hospital staff. The challenge of ensuring a reliable supply of treated water remains.
Our compact and mobile HemoRO 4 ONE unit can be connected directly to the mains water supply in the patient's home to deliver pure water that meets the stringent standards for dialysis water set out in BS EN 60601-1-11:2015. It can be installed and operational in just 10 minutes and can be easily configured via the coloured 5.7" touchscreen on the unit. It delivers up to 70 l/h of pure water, while an internal heat disinfection function, capable of temperatures above 80°C, ensures the dialysis water is of the highest microbial purity. The HemoRO 4 ONE unit has been engineered for quiet operation to minimise disturbance to patients and create a more restful environment.
Furthermore, for patients receiving dialysis in the hospital, mobile systems allow treatment to be carried out in the best location for the patients and staff, whether that is in an intensive care unit, private room or a separate dedicated area. The system's compact, lightweight and portable design means it is easy to move around using the built-in wheels. The robust aluminium housing protects the system and resists scuffs and knocks when in transit.
Although it is an essential and lifesaving process for many patients, dialysis does not necessarily need to be carried out within a hospital setting, providing a reliable supply of purified water can be achieved. Allowing patients to receive dialysis in their own home not only has benefits for their quality of life and health but also takes pressure off hospital facilities and staff at the busiest times.
At VWT our expertise and experience in the design and implementation of purified water systems for healthcare means we are able to provide guidance on the solution that best meets the needs of the hospital and its patients.
Click below to find out more about our renal dialysis water systems, including HemoRO 4 ONE.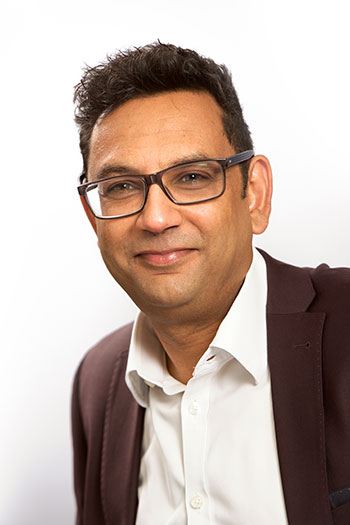 About the Author
Kalpesh Shah is the Industrial Sales Manager for Veolia Water Technologies UK. He started out working within internal sales in the early 90's before moving into international sales. In 2000, his focus led him into project management where he worked on a variety of complex and demanding projects with clients ranging from the NHS, Industrial and Pharmaceutical, for over a decade. He then moved into pharmaceutical business development which he did successfully until his promotion to Industrial Sales Manager. Kalpesh has 26 years of extensive experience with all types of industrial water treatment systems and processes. He is able to support his clients with the design and implementation of efficient water treatment systems using an array of technologies.