Veolia Water Technologies UK provides cost-effective alternative to purchasing a new plant without compromising on quality.

Refurbishing your existing water treatment plant is an effective way to improve plant performance and extend the life of your system, without large capital expenditure. Refurbishment can also help you reduce maintenance costs and is often more cost effective than replacement.
We know system efficiency inside out
We can provide your business with a FREE system health check which will:
Extend the life of your system
Comply with new safety legislation
Improve your environmental performance
Reduce operating and maintenance costs
Optimise performance and capacity
Exceed water quality requirements
Modify your equipment
Minimise downtime and prevent lost production
Discover the true cost of water
"I cannot commend your engineer enough for his support through some quite trying times. I do feel he is one of the best engineers I have had the pleasure to meet in my career."
Six steps to system efficiency
1.Register your details with us.
2.We'll arrange to carry out a FREE, no obligation system inspection and evaluation including pre-treatment and make-up water.
3.Our detailed report will include proposals and recommendations. Plus the benefits you can expect in terms of reduced operating costs and a comprehensive health and safety record.
4.Give us the go ahead and we'll produce a detailed project plan scheduled around your operation and site requirements.
5.We'll commission and test your refurbished system and produce an improvement report before leaving your site.
6.Our follow-up service will ensure your system maintains optimum performance and efficiency in the future.
RO & Deionised water solutions from Veolia Water Technologies
At Veolia we provide a wide range of water treatment solutions such as RO and deionised water, as well as specialised water chemicals and products to keep your product or business running smoothly.
Contact an expert below.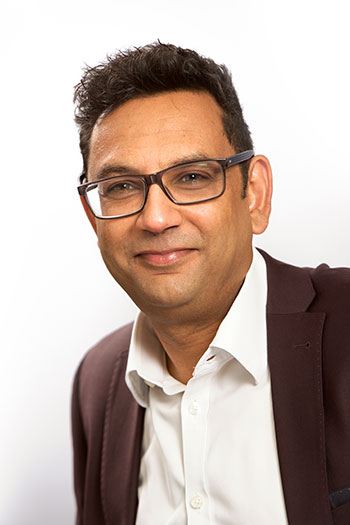 About the Author
Kalpesh Shah is the Industrial Sales Manager for Veolia Water Technologies UK. He started out working within internal sales in the early 90's before moving into international sales. In 2000, his focus led him into project management where he worked on a variety of complex and demanding projects with clients ranging from the NHS, Industrial and Pharmaceutical, for over a decade. He then moved into pharmaceutical business development which he did successfully until his promotion to Industrial Sales Manager. Kalpesh has 26 years of extensive experience with all types of industrial water treatment systems and processes. He is able to support his clients with the design and implementation of efficient water treatment systems using an array of technologies.