Process water is a critical utility across a number of industries, from pharmaceutical research to automotive production. At Veolia Water Technologies (VWT UK), we are proud to lead in this field and can offer a range of solutions that can help companies meet their process water needs.

PROCESS WATER TREATMENT
Process water is a term used to define water used in industry, manufacturing processes, power generation or any similar application. As such the process water requirements of industries and plants can vary enormously.
At VWT UK, our team of experts are able to help those using process water to overcome sector specific challenges through the adoption of our leading technical solutions. Whether it's being used in the cosmetics industry to help companies meet stringent regulatory requirements, or in the food and beverage sector to enable flexible water purification and support contaminant removal systems, our solutions can help companies meet their needs effectively and efficiently. Whilst individual process water requirements may vary, our ability to meet technical needs, produce high-quality process water and to reduce overall consumption is always the same. Regardless of the challenge, we have the capabilities to help.
Here, we talk you through a couple of our key process water technologies.
THE ORION
For use in the pharmaceutical, genetics, healthcare and biotechnology markets, our
system is the ideal choice. The skid-mounted, multi-technology purified water system provides softening, reverse osmosis (RO) and continuous electrodeionisation (CEDI) technologies that can hot water sanitised. Highly efficient, the unit design incorporates features that reduce overall water and energy consumption through an RO reject recovery system and the use of variable speed drive energy-efficient pumps.
As well as possessing a global industry track record of success, the leading range includes a number of models with a range of flow rates from 0.5 to 20m3/hr. The Orion units consistently and reliably deliver purified water. What's more, the solution is able to meet the stringent quality standards of USP and Ph Eur purified water and cold water for injection. Likewise, the solutions are fully compliant with FDA, cGMP and GAMP requirements and designed and manufactured in accordance with the ISPE Baseline Guide for water and steam.
THE IONPRO™ LX
When looking to produce lower volumes of high-purity water with low bacteria levels, the
™ LX system would be our recommendation. The compact, user-friendly solution includes softening, reverse osmosis (RO) and continuous electrodeionisation (CEDI) technologies just like the Orion units. Once again, the versatile solution can be used across a wide range of markets, including pharmaceutical, healthcare, food and beverage production, as well as helping to maintain water quality in other manufacturing industries.
Additionally, with its compact footprint, the IonPro™ LX system is able to offer sites easy installation and minimises the need for operator involvement. As mentioned, the system is easy to use and highly intuitive with a well-designed human machine interface. The control system HMI displays warnings, alarms, process information, performance calculations and has user configurable set points. What's more, the IonPro™ LX undergoes Factory Acceptance Testing (FAT) before being despatched to ensure quick and easy start up at site.
CHOOSING VEOLIA
While process water is a critical utility for a number of different industries and can be used for a wide range of technical purposes, finding the right water system to fit your specific application requires careful analysis. Fortunately, by partnering with a water technologies expert, such as VWT UK, those undertaking this process can ensure they are getting the most effective solution. Whether that's one of the high-performing Orion Process Water Treatment Systems, or the user-friendly IonPro™ LX, companies from a wide range of sectors can rely on VWT UK to help them take care of their process water needs.
Find out more on our website.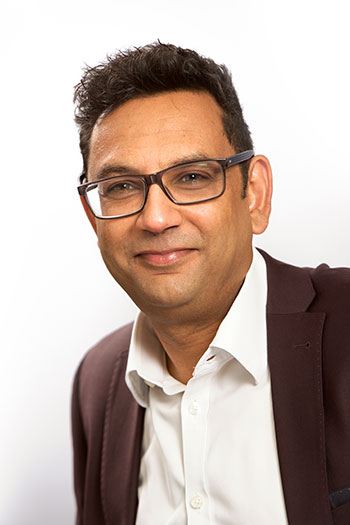 About the Author
Kalpesh Shah is the Industrial Sales Manager for Veolia Water Technologies UK. He started out working within internal sales in the early 90's before moving into international sales. In 2000, his focus led him into project management where he worked on a variety of complex and demanding projects with clients ranging from the NHS, Industrial and Pharmaceutical, for over a decade. He then moved into pharmaceutical business development which he did successfully until his promotion to Industrial Sales Manager. Kalpesh has 26 years of extensive experience with all types of industrial water treatment systems and processes. He is able to support his clients with the design and implementation of efficient water treatment systems using an array of technologies.