For nearly 30 years, the IonPro LX system has been a favourite of customers offering a compact, user-friendly system capable of producing a constant supply of high-purity, low bacteria water. Supplied by Veolia Water Technologies (VWT UK), the system combines reverse osmosis (RO) with continuous electro-deionisation (CEDI). Suitable for use in pharmaceutical, microelectronics, healthcare, central laboratory and general manufacturing applications, the IonPro LX Mark II system has flow rates of 240 to 1000 l/hr.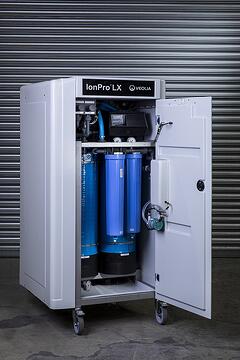 System Components
Particulate filtration with option for carbon cartridge filters

Duplex softener

Reverse osmosis (RO).

Continuous electro-deionisation (CEDI) polishing deionisation
Features and Benefits
Flow rates between 240 to 1000 l/hr.

Simple to use human-machine interface (HMI) system which displays important process information when in operation.

Integrated semi-automated chemical sanitisation system

Compact unit.

Robust stainless-steel skid for robust design.

Standardised single skid design to allow short lead times and quick start up.

Supplied with full Factory Acceptance Testing (FAT).

Optional Validation Pack available.
Applications
Pharmaceutical

Microelectronics

Central laboratory (analytic water grade 2)

General Manufacturing

Healthcare





After Sales Support

Local after-sales service and support teams offer preventative and corrective maintenance programs to ensure the long-term efficient operation of installed plant.

When combined with VWT UK's AQUAVISTA™ Portal, the system can enable companies to reduce the time they spend monitoring water treatment systems. The data-driven platform provides sites with an automatic audit trail, which details how systems are performing and enables increased data accuracy, which gives users an ability to trend site results.

Hydrex® 4000 water treatment chemicals from VWT UK should be used to optimise plant operation.


For more information about VWT UK's IonPro™ LX you can Speak to a
Veolia Water Technologies expert today.