Whilst biopharmaceutical businesses are now able to adopt new methods to produce water for injection (WFI), traditional distillation systems still remain a highly effective choice. In particular, high-performing distillation solutions, such as the ones produced by Veolia Water Technologies UK (VWT UK) are ideal for sites that need to store and distribute hot WFI within their daily operations. For those looking to invest in such a system, we're able to offer leading Polaris VCD and Polaris MED solutions. Whilst the systems share some core similarities, they also provide a range of different capabilities.

HOW DO DISTILLATION SYSTEMS WORK?
Traditional distillation systems are relatively straightforward. First, water is fed into the system via the feed water inlet. Once inside, the water is heated in a boiling chamber, which causes it to turn into steam and water mist. Now vaporised, the gaseous substance passes through a separator, which removes any prevailing water droplets which may contain bacteria or more importantly endotoxins. This gas can now enter into an inclined condenser system in the form of pure steam. Finally, the pure steam passes through an inclined condenser and then a non condensable gas (NCG) vent, where it emerges out as condensate of WFI quality. As well as being simple to use, the high operating temperatures that traditional distillation systems operate at help to give site managers reassurance from an operational perspective.
CHOOSING THE RIGHT DISTILLATION SYSTEM!
At VWT UK, we offer the Polaris family of high-capacity distillation systems, which are ideal for the production of WFI, as well as highly purified water. The range comprises a number of high-performing solutions, which are well-suited for a wide-range of applications within the biopharmaceutical sector. What's more, all solutions included in the range have been designed in accordance with GAMP, cGMP, ISPE and FDA guidelines and will meet the product quality specifications set by all the world's major pharmacopeia, including the USP and Ph Eur, giving users complete peace of mind and compliance assurance wherever their facility is based. For companies exclusively assessing hot WFI technologies, VWT UK is able to offer the Polaris MED and Polaris VCD systems.
IS POLARIS MED RIGHT FOR ME?
The Polaris MED system is capable of producing up to 10,000l/hour of WFI from a purified water feed, which makes it ideal cGMP compendial water for injection. The solution has been carefully engineered and its column geometry, design and efficient droplet separation ensures excellent decontamination performance, which plants can rely on. Similarly, the MED system features labyrinth baffles, which help to reduce steam velocity and optimise droplet separation. The system also works using dry running evaporators that help to mitigate the risk of bacterial contamination, which is often associated with static water.
As well as offering powerful performance, the MED system is ideal for those looking for an easy to use water treatment solution. Despite its immense technical capabilities, the solution is fitted with a large, user-friendly touchscreen panel, complete with the option for supervisory control and data acquisition (SCADA). Likewise, the product provides super-fast startup times and eliminates the need for a hot standby, helping the system to save significant energy and water. Therefore, in terms of operating expense (OPEX) the system has a range of economic credentials. Finally, the Polaris MED system is very flexible, with its combi units able to produce both Pure Steam and WFI as alternative products, or simultaneously.
IS POLARIS VCD RIGHT FOR ME?
While akin to the Polaris MED system, the Polaris VCD solution can produce up to 25,000l/hour of WFI from a softened mains water feed. The powerful unit is able to offer high decontamination efficiency, as well as three stage NCG removal. The low velocity solution is ideal for optimising impurity separation and provides a dry running, FDA approved compressor seal. As such, the versatile system can enable hot and cold water production. Much like the MED system, the VCD system can be fitted with a large touch screen panel, with the option for SCADA. Furthermore, this intuitive interface is available in four languages and can be linked to an on-site printer.
From an OPEX perspective, the system offers highly efficient performance with low power and steam consumption thanks to its compressor. The VCD technology provides high thermal efficiency and can operate without the need for a cooling water system. Functionality is also integral to the solution's appeal and it features an automatic blow down and WFI quality switchover system built in as standard. Whilst practical and efficient, the solution also remains a highly effective option offering specific WFI temperature production from 20 to 95°C, as well as modulated production options ranging from 0% to 100%.
MAKING THE RIGHT CHOICE
Selecting the distillation system that is right for you and your operations can come down to a number of important technical considerations. As always, to ensure that you are making the right decision, we would advise reaching out to a water technologies expert at a genuine industry-leader, such as VWT UK. In doing so, you can ensure that you find a system perfectly suited for your plant and its needs.
What's more, by working with us, you will be able to take advantage of our comprehensive range of service maintenance products. This offer includes our Standardised Performance Qualification Maintenance Contracts (PQMC), which can be tailored to your system to ensure its continuing compliance. Finally at VWT UK, we are also able to offer scheduling services on a pre-planned basis, which when coupled with time-based replacement of specific parts and consumables significantly reduces the risk of downtime. This approach also enables us to guarantee the quality and value of your system for a lifetime, letting you get the most from it.
For more information on the Polaris product range, please click here.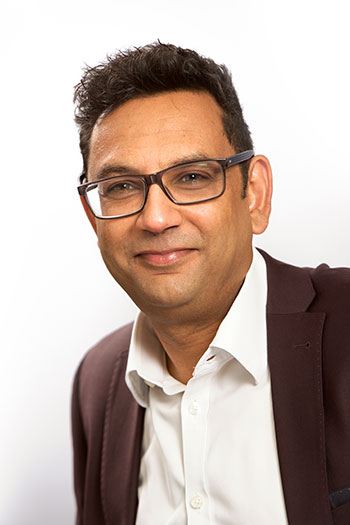 About the Author
Kalpesh Shah is the Industrial Sales Manager for Veolia Water Technologies UK. He started out working within internal sales in the early 90's before moving into international sales. In 2000, his focus led him into project management where he worked on a variety of complex and demanding projects with clients ranging from the NHS, Industrial and Pharmaceutical, for over a decade. He then moved into pharmaceutical business development which he did successfully until his promotion to Industrial Sales Manager. Kalpesh has 26 years of extensive experience with all types of industrial water treatment systems and processes. He is able to support his clients with the design and implementation of efficient water treatment systems using an array of technologies.