Here, we interview Paul Horton, Chief Executive Officer of the Future Water Association (FWA), about the important role of the supply chain, when it comes to overcoming the challenges facing the water sector, and ultimately its transformation for the future.

What do you think are the most pressing challenges due to face the water sector over the next decade?
We anticipate a number of challenges. Water scarcity, climate change and the risk of cyber-attacks are all critical issues, which must be acted upon. The water sector will need to continue transforming both its thinking and operations. Crucially, this means embracing innovative technological advances and managing customer and social expectations.
With the recession that has followed the COVID-19 pandemic, our industry must also consider rising poverty, limited affordability and increased demand for water as a result of the UK's predicted population growth.
Furthermore, asset management, efficient operations as well as managing large data loads and the recovery of wastewater resources are also essential factors that we will need to face.
To what extent are water companies looking to the supply chain to help overcome the challenges?
There has been an increasing trend towards water companies being 'lean.' This means that an increased importance is being put on supply chains. Although it does vary, typically the supply chain supports water companies in delivering projects across their portfolios water companies do recognise their value, especially in connection with what is currently happening.
To unlock this value water companies we need to better facilitate collaboration and place all enterprises involved on an equal footing - rather than a Tier 1, 2, 3 approach. There is a shift happening – with more focus on direct contact with the supply chain and less reliance on engagement through major contractors.
Another dimension is the drive towards using data, making better use of IT, cloud systems and advanced algorithm software. Water companies have recognised that analysis of existing systems can lead to operating in a more efficient and innovative way, informing decisions about operation optimisation, management of the pipe networks and water treatment to name a few.
There is also a growing recognition of the value of organisations such as FWA, that can bring the suppliers together, create engagement, collaboration and connections to support greater water company performance. The FWA itself acts as a powerful voice in the sector, providing optimism and leading the debate.
Why do you think small and medium-sized enterprises (SMEs) are such an important part of the supply chain?
The breadth of SMEs in the supply chain enables access to a network of individuals, organisations, resources and technology that can be brought together to support the creation of new products and services. Many great innovations are rooted in the smallest of SMEs and open innovation is an important part of how SMEs operate. Crucially, SMEs bring specialisation and the deep understanding of the product or service that they offer.
Approximately, 70-75% of water company output is delivered through the supply chain, collaborating with SMEs who bring forward new ideas, products, software services, which offers enhanced capability and new knowledge. SMEs are often closer to the issues at hand, and this insight can be an essential component for effective utility operations.
SMEs also provide a vital link back to the research community, working with universities to bring ideas to commercial reality as well as supporting ongoing research. Over and above this, SMEs are a crucial source of knowledge that often have a range of experience, particularly as they will tend to operate across more than one sector.
How can the knowledge and expertise SMEs bring from other sectors encourage innovation in the water and wastewater sector?
The main driver of innovation will be quick implementation using technologies and systems already Business As Usual (BAU) in other sectors. At the FWA, we play a key role in making this knowledge visible and available to our members and inspiring them to collaborate with each other and the utilities.
We have already seen examples from other sectors such as using data modelling for operations management, optimisations of systems, and insights into asset health, performance and smart technology. Both artificial intelligence (AI) and virtual reality technology has also emerged rapidly in the water industry due to SMEs working across other industries: oil and gas, automotive and robotics to name a few.
Another good example is democratisation. When applied in a world where remote working will play a much greater role in BAU, SMEs that understand and provide the tools, software and analysis to engage with customers can help drive a hugely positive change.
What role do you think the supply chain should play in the delivery of AMP7?
Through open collaboration, the supply chain will take centre stage in helping to deliver more innovation, encourage greater cross sector technology transfer and ultimately working with the water companies to support them in becoming more resilient. SMEs can help water companies through the current crisis and use the opportunity to reset approaches and to reimagine project delivery.
Do you think there is enough focus and investment in the development of new technologies for the water sector?
There almost seems to be a fear of it, perhaps driven by public health considerations and the need for a conservative approach. Most operations are understandably risk adverse when it comes to new technologies. What we need is more collaborative partnering with SMEs to enable knowledge sharing. This combined with the introduction of Ofwat's innovation fund being brought in will all help to transform the water sector.
How does the FWA encourage the innovation of new technologies and the development of rising stars in the industry?
Our vision as an association is 'to be the hub for transformation and innovation across the water sector.' We have four strategic objectives:
Informing and influencing Government, regulators and industry
Enable members to connect and collaborate
Driving innovation and education into the sector
Promoting the water sector as a 'career opportunity'
These elements help drive the association to support the sector in the most creative way.
Through our Water Dragons programme that has been operating for several years, the focus is on innovation and inventions in a 'Dragons Den' format. The SMEs and those behind the inventions are challenged on how their idea can contribute to solving a problem and is unique across the sector. Over 200 companies have come through the programme and gone on to become successful.
We also launched the Young Water Dragons, focusing on innovation and our own commitment to stimulating interest in the water sector from young people at the point of making their career choices. The two competitions seek to stimulate collaboration at all levels, connecting suppliers and keeping the sector informed.
As an association, we want to see a greater focus on diversity, inclusion and the next generation – we will be responding to regulator OFWAT arguing that the innovation fund isn't just used to support SMEs, but has targets for diversity and inclusion, as well as innovations from schools. We believe this would be 'transformational' in nature.
You have previously touched on the potential of smart technology in the industry. What role do you think smart technology will play in the development of the water sector going forward?
Smart systems involve IoT and communications networks such as NBIoT, LoRoWAN and Zigbee supporting multiple data collection devices across the network, producing a data intelligent environment. With the inclusion of AI, Machine Learning, automation and 'keyhole' technologies, it is evident that all current and future technologies are valuable to and relevant for the water sector.
The ultimate goals of self-healing pipes and never needing to dig up a road again are still worthwhile targeting and these technologies will be a major part of the solution. Smart technologies also help in situations such as the one we find ourselves in now where close human engagement is limited, not just in relation to offices but also across the operational sites of water companies.
It is time to give the consumer the insight and power to drive the industry demand-side, not the supply side. Through the smart technology we are currently using, this makes for a real opportunity to change customer engagement.
Smart technology can also change the way the sector operates. I expect it to look very different 10 years from now, with the last few months showing just how transformational the water sector can be. This change has been underpinned by technology that is evolving all the time.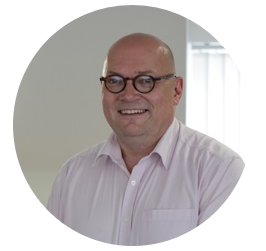 About the Author
Paul Horton is the Chief Executive Officer at the Future Water, the suppliers voice in the sector. With 20+ years experience working for charity and not for profit organisations at Director and CEO level, Paul leads the Future Water Association in its endeavour to encourage innovative solutions and new ways of thinking in order to shape the future of the water sector. Paul possesses a wealth of industry knowledge, having previously held senior roles at British Water, the European Water Association and the Chartered Institution of Water and Environmental Management (CIWEM). Paul has been part of the Engineering Councils International Advisory Panel, EU Working Group to the implementation of the Water Framework Directive and is currently part of the UK Water Partnership.