The implementation of an effective contingency plan can significantly help to minimise the risk of business disruption to an industrial facility. In particular, it is crucial that site managers in charge of a water treatment plant have a plan in place in case of disruption to the in-situ system. Here, we highlight how Mobile Water Services can help and outline the plug and play solutions, which can help companies to prepare for water treatment emergencies.

Fortune favours the well-prepared. That is to say, those who are most prepared for disruptive incidents are best placed to avoid their consequences. Nowhere does this apply more than with regard to site managers overseeing water treatment plants. These plants often play a crucial role in the processes of a wider industrial facility, which can still be expected to continue the delivery of products and services following a disruptive incident. Whilst ostensibly difficult to achieve, the task becomes far simpler once companies have dedicated the proper time and attention to developing a robust contingency plan. For those in charge of such facilities, taking this first step allows them to identify water treatment solutions they could deploy in a crisis.
MAKE THE CASE FOR MOBILE WATER TREATMENT
A lot has changed since mobile water treatment services were first introduced into the market. Originally, they were simply ion exchange resins mounted inside trailers, which could be transported to a site to provide a temporary supply of high purity water. Over the years, needs of industrial sites have diversified, generating demand for a broader range of available physical and chemical technologies, from pretreatment by clarification and filtration to reverse osmosis, ultrafiltration and ancillary equipment. However mobile ion exchange technology still has an important role especially for rapid response to emergency situations.
At VWT UK, we have developed a wide range of mobile water treatment solutions to respond to the diversified needs of our industrial customers. At the same time we have further developed our own ion exchange range including skid mounted vessels (MOFI 1200 and MOFI 2700) and our trailer mounted MODI 15000T. All the ion exchange assets can be rapidly deployed to site directly from our UK Service Centre in the Midlands or one of our five European Service Centres. Once on-site, the assets can be commissioned in a matter of hours to get a treated water tank filled quickly and to help industrial operators act with speed in an emergency. In fact, thanks to VWT UK's outstanding customer support, the service is ready to be supplied around the clock through our team of dedicated engineers.
SAVE ON SPACE AND TIME
In addition, the Mobile Water Services assets can be positioned to make the best use of the available space, eliminating or reducing the need for building infrastructure to house the equipment. Furthermore, many of the solutions delivered through VWT UK's Mobile Water Service offering represent genuine plug and play systems, which deliver in terms of functionality and portability. What's more, the solutions on offer are entirely modular and can be operated in parallel or in series to provide the required flow rate. Likewise, this modular design allows sites to continually add new components or treatment steps as required. Therefore, should there be a temporary need for additional capacity, the system can respond accordingly.
READY TO REACT
To best support our customers who want to prepare for unexpected events, we have worked to put together the REACT service, from our Mobile Water Services branch. The much-needed service provides a free pre-audit of what equipment may be required in the event of unforeseen circumstances. Once the audit is completed, customers are provided with a REACT plan including an emergency asset list, as well as the contacts within VWT UK to mobilise the required water treatment equipment when required.
Through the creation of this service, we are helping to make robust contingency planning far easier for a broad spectrum of customers. As well as providing help with planning, our Mobile Water Service can deliver all the relevant asset rentals, consumables, maintenance, chemicals, logistics and technicians needed to ensure operations continue to run smoothly.
For more information on Mobile Water Services, please click here.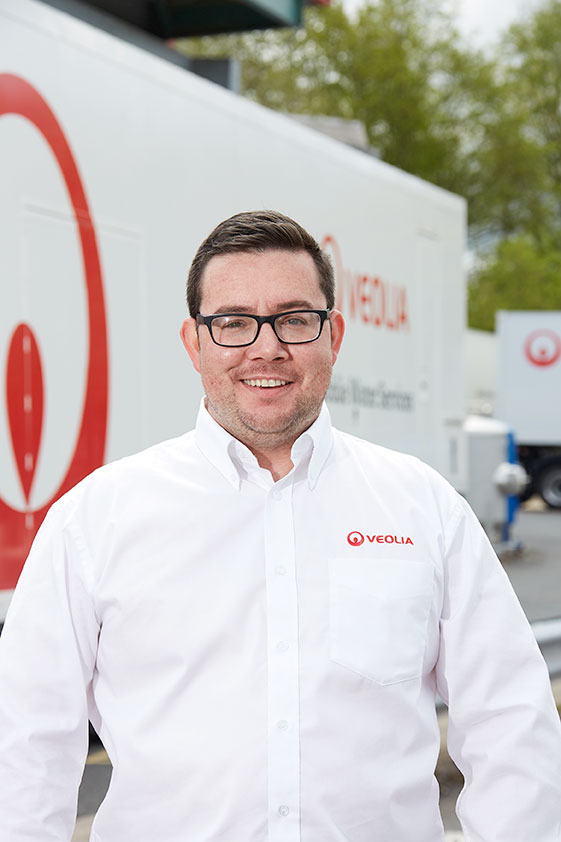 About the Author
Thomas has 13 years experience within the water treatment industry, working in the UK and the Netherlands. He has a broad level of operational experience working as an SDI Plant Operator during his Engineering Apprenticeship, Commissioning Engineer and Operations Manager. Using his years of experience Thomas is responsible for business development in the South of England and supports customers with their mobile water treatment requirements.