Manufacturing a kilogram of dairy produce requires somewhere between two and four litres of water and can generate as much as 20 litres of wastewater depending on the product. Therefore, dairy processors face a number of financial and sustainability challenges with regard to industrial wastewater management. However, the nature of the waste also presents viable opportunities.

The management of dairy industrial water is a central issue for producers, especially in terms of optimising the use of resources and reducing wastewater volumes. With water companies introducing stricter standards for water discharged to the sewers, dairies need to consider their wastewater treatment systems carefully.

There are a number of industrial wastewater treatment technologies available that have particular value for the type of wastewater produced by dairy operations. These include anaerobic wastewater treatment technologies that use anaerobic bacteria to convert organic pollutants or Chemical Oxygen Demand (COD) into biogas.

For example, our Memthane® wastewater solution is an anaerobic membrane bioreactor (AnMBR) that produces high-quality effluent that can be discharged directly to the sewer while maximising renewable energy production through the generation of valuable biogas. Just one of the anaerobic solutions available in the portfolio of VWT UK, the state-of-the-art Memthane® is capable of treating even high strength wastewaters with 8,000 - 75,000 mg/l of COD.

For dairies it has the advantage of a uniquely small footprint which allows for the optimum use of space. The biogas produced can be used on-site to reduce the demand for fuel, steam and electricity generation, resulting in operational cost savings. To further reduce costs, the wastewater produced can also be processed and reused for applications such as Cleaning In Place (CIP) operations. For example, our Sirion™ Mega: reverse osmosis (RO) technology uses a membrane to remove 99% of residual COD, dissolved salts and bacteria from the treated process wastewater. This technology is so effective that it can produce water of equal or better quality than the mains supply. The reverse osmosis process is driven by pressure and the Sirion™ low-pressure membranes and high-efficiency pumps make it one of the most energy efficient systems on the market – minimising both carbon emissions and operating costs.

Case Study – Robert Wiseman Dairies

Robert Wiseman Dairies operates six dairies employing more than 4,700 employees and supplying a third of the UK's milk. The company decided to optimise its water and wastewater use with the aim of reducing water consumption across its network by 25% over a five year period. The team at Veolia Water Technologies UK designed and installed a Dissolved Air Flotation (DAF) system and a membrane bioreactor (MBR) to reduce COD. The quality of the discharged effluent more than meets the required environmental standard.

With this high level of water quality, Robert Wiseman took the opportunity to further reduce water consumption by recycling the effluent in order to use it for the CIP system. We proposed the use of the Sirion™ Mega RO system and Robert Wiseman became the first dairy in the UK to install a RO recycling system, enabling them to recover 200m3/day of process wastewater.

Eleanor Walton, Robert Wiseman Dairies' project manager explained: "Because the operating cost of the Mega RO is low, the recovered water actually costs less than mains water, even after including capital amortisation. We expect to get a payback on the £130,000 investment in about two and half years."

By partnering with the right industrial wastewater treatment system supplier dairies can respond to the evolving challenges they face by both minimising operating costs and optimising their use of resources.

Our expert team are able to advise on the right systems and technologies based on your specific requirements. To find out more, click below.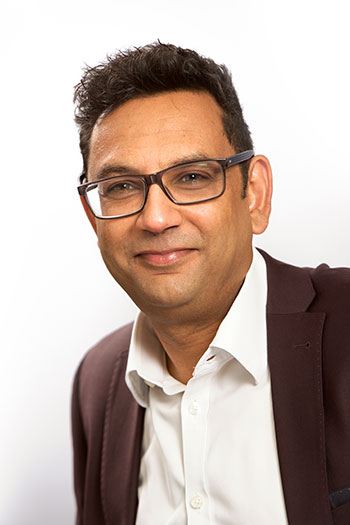 About the Author
Kalpesh Shah is the Industrial Sales Manager for Veolia Water Technologies UK. He started out working within internal sales in the early 90's before moving into international sales. In 2000, his focus led him into project management where he worked on a variety of complex and demanding projects with clients ranging from the NHS, Industrial and Pharmaceutical, for over a decade. He then moved into pharmaceutical business development which he did successfully until his promotion to Industrial Sales Manager. Kalpesh has 26 years of extensive experience with all types of industrial water treatment systems and processes. He is able to support his clients with the design and implementation of efficient water treatment systems using an array of technologies.